Mercury Exposure Limit
Holistic Dental Blog
Dr. W. Eccles D.D.S. Livermore
Resources to learn more about holistic and biological dentistry
Over 55% of Adults are exposed to Mercury over the FDA and California FDA MRL (minimal exposure limit)
Concern about exceedng mercury safety limits with dental fllings? A recent study(1) conducted by David and Mark Geier found a highly significant relationship between the number of dental amalgam filling surfaces in the mouth and amounts of mercury excreted (urinated). They compared the amounts of mercury being excreted to the current mercury minimum risk levels of both the US EPA and California's EPA. The results indicated that 91 million (57.8%), of the 150 million, adults who had 1 or more surfaces of mercury (dental amalgam) fillings had a significantly higher amount of mercury in their urine. Of those 91 million, 86 million had mercury in their urine in excess of the CalEPA's minimum risk level. 16 million were over the US EPA's MRL. This study was completed by reviewing data collected by the CDC's National Health and Nutrition Examination Survey (NHANES)(2) from 2015-2018.
David and Mark Geier have conducted multiple studies to advocate for the ban of mercury (dental amalgam) fillings. They have worked in collaboration with the IAOMT. Learn more by reviewing the full article here.
More Resources
"Dental amalgam fillings and mercury vapor safety limits in American adults"
Read more…
Learn about NHANES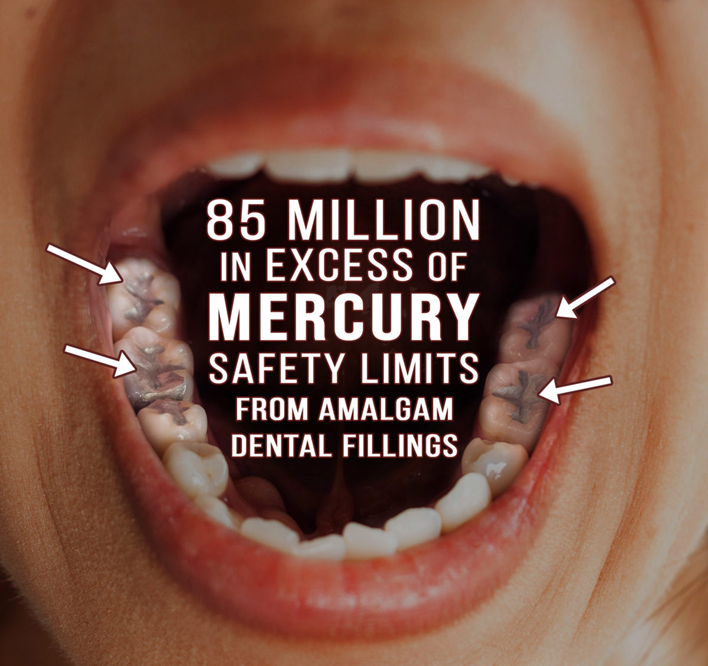 The Right Mercury-free Dentist for me.
I went to Dr. Eccles for mercury free dental treatment, after another dentist had attempted to put in non-mercury & screwed up; the filling cracked and needed to be drilled out. Dr. Eccles built up the filling slowly, layer by layer. Turns out if they load in the non-mercury stuff in one big gob, like the first guy did, air bubble can form, so the filling cracks when pressure is applied by chewing. Important: Non-mercury dentists can't advise you to take the mercury out, or they can lose their right to practice! So you need to ask them to remove your mercury. Reason: The dental establishment doesn't want us to know they have been poisoning people all these years.
Dr. Eccles provides mrecury-free and family dentistry to clients from many different places in the Bay Area, including Tri-Valley (Livermore, Dublin, Pleasanton), Tracy and other locations. His health oriented dentistry practice promotes non-toxic dental treatment for you and your family.
Mercury Free Fillings Dental Care in Livermore. I have learned so much from Dr. Eccles! I had never heard about all of the issues with Mercury fillings and now I better understand how what is in your mouth can tie to some other diseases of the body. Dr. Eccles is so knowledgeable and someone I highly recommend!
Holistic & Biological Oriented Dental Care
What our patients say about Dr. Eccles and our dental practice in Livermore
Lorena Rodriguez
2023-04-13
I have to say I was very lucky today and at the same time very thankful that I have met this doctor that open my eyes to a lot of things and I like his way of showing you. The process is very educational.
Nisha Manalath
2023-04-08
Felicia Kruger
2023-03-21
Wonderful first time visit. The whole staff was welcoming, friendly and easy-going. Made for a very comfortable experience.
Excellent service: professional, friendly, solved the complex , difficult problem! I would recommend it to my family and best friends!
Dr. Eccles' office staff are always so friendly and helpful that it never ceases to leave me with the biggest smile on my face (and that's before they even touch my mouth!) They treat you like family every time. They are honest and do solid work - no surprises. Just genuine care. Super appreciative for all that they do.
Dr. Eccles and his staff are cheerful, knowledgeable, meticulous, and principled. I trust my dental health to no other. I drive all the way from Berkeley because I know I can trust them.
Dr. Eccles is a wonderful and very knowledgeable dentist. He doesn't waste any time to help you find relief and get to the root of your issues. His staff is also very friendly, accommodating, and easy to work with. I travel 1.5 hours to see him and it has been well worth the drive each time. Highly recommend to anyone in the Bay or surrounding areas.
Michelle Bella
2022-11-11
The doctor, office manager, assistant, and hygienist are all a 5!
Melinda Pilapil de Ocampo
2022-10-13
I am grateful I found Doctor Eccles. He is a very honest dentist and he will only recommend services that are required. I love that he uses the holistic approach. Audrey is the best as well. She is very positive and explains everything to you. Your co pay and out of pocket cost if any. I enjoy coming here. Great customer service. The staff are all nice and always greet you with a smile. The Hygienist is also so thorough in cleaning my teeth. I love this place. Positive experience everytime I go here! They care.
Need dental care?
You've come to the right place. My name is Nancy Daniel and I have been a patient of Dr. Eccles in Livermore for about 2 years or more. He is a perfectionist dentist and he did much needed work to my lower teeth and I must add, they look and feel great!
He's also did a lot of dental work for my husband who has been a very satisfied patient for at least 20 years. Dr. Eccles helps one feel at ease; he is gentle, kind, caring, patient and thorough. His dental office in Livermore is clean and organized, his staff are friendly and supportive. They are awesome! I highly recommend our family dentist in Livermore Dr. Eccles and his staff to care for your beautiful smile!
Wonderful and Patient Livermore Dentist.
In a nutshell, our experience with Dr. Eccles (our very first visit to this Livermore Dentist) was absolutely wonderful. I don't believe I have ever been this impressed with ANY physician, M. D. or Family Dentist. Dr. Eccles took considerable time in explaining his unique approach to family dentistry and made both my son and I feel totally comfortable in this Livermore Dentist care. His staff are kind, supportive and really sweet. We are most happy with our very first visit with Dr. Eccles and certainly intend to become long-term prtients.
Quality and Honest Dentist in Livermore
Wow, what can I say? This man is an amazing dentist in Livermore! I've been to a lot of dentists in my lifetime, but no one compares to the quality and precision work Dr. Eccles does, he truly treats you as though he were working on a a member of his own family. Very honest and moral as far as not doing anything that isn't necessary, many times he could have done a crown on me making more profit but convinced me of doing a filling instead, very ethical!!
Conscientious Care by Livermore Dentist
After a year and a half of continuing facial pain, with no help from traditional doctors, traditional dentists or traditional oral surgeons, Dr. Eccles a Livermore dentist was recommended. He immediately recognized the origin/cause of my pain as an overflow from a root canal, which had been injected into my bone.
Dr. Eccles being a professional Livermore dentist sent me to a specialized oral surgeon to perform a cavitation, a procedure that is no longer being performed by most oral surgeons. The dehabilitating facial pain stopped. It seems I am allergic/very sensitive to dental materials. Under Dr. Eccles conscientious care, I believe I stand the best chance of coping with future dental procedures.