Providing holistic dental care and treatments for families in Livermore and through the Bay Area with toxic-free and health-centered dentistry for over 40 years
Livermore
Health-Centered Dentistry
We are a holistic/biological dental office in the bay area, located in sunny Livermore, California. At S. Ward Eccles, DDS, Inc., our goal is to provide each and every patient with individualized treatment using biocompatible and environmentally conscious dental materials in a warm, supportive and welcoming atmosphere. We are dedicated to our patients' dental health by offering science-backed dental procedures, materials, and technology.
About Dr. Eccles
Holistic and Biological Approach to Family Dentistry
"My objective as a health-centered Livermore dentist is to help educate about the seriousness of achieving a healthy mouth. This means one that is free of toxic materials and excessive electrical currents generated by dissimilar metals in the mouth. I understand how important it is that to have a healthy body one must also have a healthy mouth and vice versa."
Dental Treatments
We are a family-oriented dental practice with holistic & biological approach to dentistry. Contact us if you are looking for a health-centered cosmetic dentist or needing a preventive and restorative dentist, ozone therapy or cavitation surgery. We see patients from Livermore, Pleasanton, Dublin, the East Bay Area, and throughout California and some adjacent states.
Using science-based, biological techniques, technologies, and materials for your oral and overall health
Establishing preventative dental care routine and restorative treatment options for the entire family
Replacing amalgams with non-toxic filling materials while safely capturing released mercury
Restoring and replacing natural teeth using a conservative approach with non-metal materials
Holistic & Biological Oriented Dental Care
No More Mercury Fillings !
I have learned so much from our dentist in Livermore, Dr. Eccles! I had never heard about all of the issues with Mercury fillings and now I better understand how what is in your mouth can tie to some other diseases of the body. Dr. Eccles is so knowledgeable and someone I highly recommend!
– Marcey D –
What our patients say about Dr. Eccles and our dental practice in Livermore
Christopher Zerbe
2021-12-03
Wonderful team, wonderful Dr. !!
Meaghan Faulkenberry
2021-10-20
For the first time EVER, I enjoyed going to the dentist. The staff was cool (weird description for an office, huh?), fun, happy and helpful. I learned a lot about how to better clean my teeth during the appointment (practices I'll definitely implement for the rest of my life) and my discounted teeth whitening worked instantly. I'm actually looking forward to my next appointment in six months! Thank you!
Carol Espinoza
2021-07-26
Dr. Eccles is funny and straightforward, he is exactly what I like in a dentist. I came in for a consultation and his experience and advice helped me in making my decision. Also his staff is very kind and knowledgeable. They follow Covid-19 guidelines which I really appreciate.
Christina Bravo
2021-07-06
Dr. Eccles is highly knowledgeable & experienced. He is precise & patient & always willing to take the time to explain information in detail to help you understand. For my family & I customer service & experience is just as important as expertise. He and his team give superb customer service.one of the best holistic dentist!
Dr. Eccles mastery has once again given me relief from an aching tooth in the most holistic way.
Ragini Gunasekaran
2021-06-15
Great service by Dr. Eccles and his staff! Been here for last three years. Dr. Eccles has been a great dentist and addressed my gum bleeding sensitivity issues and took care of my cavities etc. His front desk and dental assistants have all been very great! Overall very happy with the care and the treatment here!
Need dental care?
You've come to the right place. My name is Nancy Daniel and I have been a patient of Dr. Eccles in Livermore for about 2 years or more. He is a perfectionist dentist and he did much needed work to my lower teeth and I must add, they look and feel great!
He's also did a lot of dental work for my husband who has been a very satisfied patient for at least 20 years. Dr. Eccles helps one feel at ease; he is gentle, kind, caring, patient and thorough. His dental office in Livermore is clean and organized, his staff are friendly and supportive. They are awesome! I highly recommend our family dentist in Livermore Dr. Eccles and his staff to care for your beautiful smile!
Wonderful and Patient Livermore Dentist.
In a nutshell, our experience with Dr. Eccles (our very first visit to this Livermore Dentist) was absolutely wonderful. I don't believe I have ever been this impressed with ANY physician, M. D. or Family Dentist. Dr. Eccles took considerable time in explaining his unique approach to family dentistry and made both my son and I feel totally comfortable in this Livermore Dentist care. His staff are kind, supportive and really sweet. We are most happy with our very first visit with Dr. Eccles and certainly intend to become long-term prtients.
Quality and Honest Dentist in Livermore
Wow, what can I say? This man is an amazing dentist in Livermore! I've been to a lot of dentists in my lifetime, but no one compares to the quality and precision work Dr. Eccles does, he truly treats you as though he were working on a a member of his own family. Very honest and moral as far as not doing anything that isn't necessary, many times he could have done a crown on me making more profit but convinced me of doing a filling instead, very ethical!!
Conscientious Care by Livermore Dentist
After a year and a half of continuing facial pain, with no help from traditional doctors, traditional dentists or traditional oral surgeons, Dr. Eccles a Livermore dentist was recommended. He immediately recognized the origin/cause of my pain as an overflow from a root canal, which had been injected into my bone.
Dr. Eccles being a professional Livermore dentist sent me to a specialized oral surgeon to perform a cavitation, a procedure that is no longer being performed by most oral surgeons. The dehabilitating facial pain stopped. It seems I am allergic/very sensitive to dental materials. Under Dr. Eccles conscientious care, I believe I stand the best chance of coping with future dental procedures.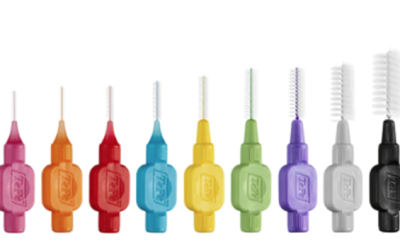 Interdental brushes are the supreme way to clean between your teeth. They help to push out food, remove plaque, and stimulate the gum tissue.
read more